News
Appointment Notice
The Irish Council of Churches and the Irish Inter-Church Meeting is pleased to announce the appointment of Mr. Mervyn McCullagh to the position of Executive Officer to both Councils. This is a new position that builds on the valuable work of Mr. Michael Earle who served for 6 years as General Secretary to the ICC/Executive Secretary to the IICM.
Mervyn recently returned home to Ireland after 11 years living in Indonesia where he worked as Consultant for Church Management and Development for the local church from 2004 while serving as a Missionary for the Presbyterian Church in Ireland since 1998. A graduate of Trinity College and brought up in Dublin , he brings extensive experience of developing inter-church relations internationally along with a wide range of cross-cultural communication skills and project management experience. He will begin his appointment on the 1 August 2010.
Bishop Richard Clarke, President of the Irish Council of Churches says "I believe Mervyn will provide us with new strategic direction as we seek to bring inter-church relations to the mainstream agenda of the major churches in Ireland . His expertise will assist us in realising our key priorities for the Council which are: to provide the churches with a prominent and cohesive voice on issues of shared concern; to discover new ways to communicate Christianity in contemporary Ireland ; and to extend the reach of the Council to incorporate the many new churches on this Island ."
The Irish Council of Churches comprises fourteen member churches united in efforts to promote the spiritual, physical, moral and social welfare of the people and the extension of the rule of Christ among all nations and over every region of life. The Irish Inter-Church Meeting is a forum for ecumenical debate and action comprising the Roman Catholic Church and the member churches of the Irish Council of Churches.
Death of Venerable R W R Colthurst
Archdeacon R W R (Bill) Colthurst was ordained to the ministry in 1945 and commenced his long association with the Diocese of Armagh serving his first curacy in St Mark's Parish, Portadown from 1945 -1948. Following a second curacy in All Saints Connor he returned to the Diocese in 1955 upon his appointment as Incumbent of the Parochial Group of Ardtrea and Desertcreat, serving the Group until his institution as Rector of the Parish of Richhill in 1966 where he remained until his retirement in 1994.

In 1979 he was made Rural Dean of Kilmore and in 1983 a Canon of St Patrick's Cathedral, a position he held until his appointment as Archdeacon of the Diocese in 1985. He also served diligently on almost all diocesan committees.

Throughout his devoted service Bill Colthurst was admired and respected by all who knew him. His kindness, loyalty and wise counsel, particularly in the role of Archdeacon, was enjoyed and depended upon by many and his retirement was a huge loss to the entire Diocese.

Our heartfelt sympathy and prayers go to his wife Mary and their children, Patrick and Heather, and the wider family circle.





Archdeacon Colthurst's funeral took place on Friday 20 March at 2pm in St Matthew's, Richhill, Archbishop Eames gave the address.
CHRISTMAS MESSAGE 2008 FROM THE ARCHBISHOP OF ARMAGH
I am a grandfather. I acquired an additional three new granddaughters in the past six months. As a result, children have never been far from my mind this year. Thankfully all four of my granddaughters together with their respective mothers are thriving. But I saw a different side to infancy earlier this year when I visited the Holy Family Hospital in Bethlehem. Along with the smiling faces of happy parents with healthy infants I saw a nursery for 'foundling' children abandoned at birth. One child I saw was desperately ill; the others were lively and well. What moved me particularly was that in that hospital there was and is 'room at the inn'.
The abandoned children of the city of Christ's birth remind me of another reality. Whenever we cradle a new born baby we are holding a child who may, in the fullness of time, change the world. Nothing, then, is more important, more worthwhile, more socially and economically necessary than to cherish little children for all children of whatever ability are rich in unexplored promise. Strong, secure, loving families, wherein each member is loved and respected are the God-given ideal within which children may grow and fulfil their potential. It is therefore vital to create structures and conditions that support and encourage wholesome family life. Let's get our priorities right: our first concern should be to nourish healthy family life.
But, of course, families of all kinds – including traditional families – may fall apart. Sometimes children are exploited, abused, neglected or unloved. When that happens society must step in. The news is full of tragic stories of how we fail our children. The massive recent publicity over the death of 'Baby P' aroused instincts of righteous indignation and the cry to apportion blame. The appalling statistics of child abuse and neglect revealed in a recent report in 'The Lancet', tell of the size of the problem confronting social workers and childcare professionals. It is important to recognize that it was primarily the child's parents and not simply social workers who failed 'Baby P'. Ultimately, it was society's failure – we all failed.
We shall never know what 'Baby P' might have given to the world for, unlike the Christ child of Bethlehem and the foundling children of that city two thousand years later, he did not have the Holy Family to rely upon. This Christmas, as we think of Christ's Incarnation, let us celebrate and support family life where it seeks to build children up and encourage each other to cherish and respect the gift of new life.
Hard Gospel Introcultural Training
Four regional intercultural training days, organised by the Hard Gospel Project and led by a leading anti-racism activist Benedicta Attoh, will take place through November and December for church members looking to deal positively with issues of racism and interculturalism.
The training days take place on successive Saturdays, from 10:00am to 4:30pm in the following locations:
SATURDAY 15TH NOVEMBER
(CALRY PARISH CHURCH, CO SLIGO)
SATURDAY 22ND NOVEMBER
(ASLAN CENTRE, KNOCKNAGONEY, CO DOWN)
SATURDAY 29TH NOVEMBER
(ST ANDREW'S PARISH CENTRE, LUCAN, CO DUBLIN)
SATURDAY 6TH DECEMBER
(LIMERICK METHODIST/PRESBYTERIAN CHURCH, LIMERICK CITY)
The training days are designed to help church members acquire the necessary awareness to understand and meet the challenges associated with living and working in an ethnically diverse society, especially during a period of economic downturn. They will also provide information on the processes and manifestations of racism (individual and institutional) and the strategies to deal with it.
While there is no cost for participants, space is limited, therefore to sign-up either go to www.hardgospel.net to sign-up online or write to 'The Hard Gospel Project, Church of Ireland House, Church Avenue, Dublin 6' and register which training day you wish to attend.
The Hard Gospel Intercultural Training takes place as part of the 2008 European Year of Intercultural Dialogue
New Rector for Drumcree Parish
The Revd Gary Galway who is at present the curate assistant in St Mark's Church, Portadown, has been appointed as Rector of Drumcree Parish. The institution will take place after the summer.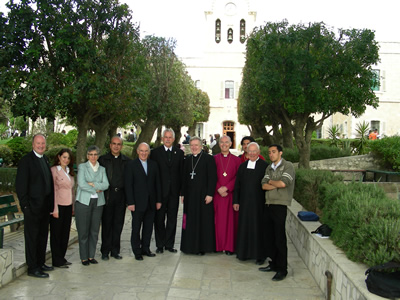 Keeping Watch: a service of hope for peace held at the Shepherd's Field, outside Bethlehem, was one of the highlights of the recent visit by the leaders of the four main Churches in Ireland, including the Most Revd Alan Harper, Archbishop of Armagh and Primate of All Ireland.
This is the holy site where the Angel of the Lord visited the shepherds, told them not to be afraid, and informed them of Jesus' birth. Here, alongside many local Christians who packed the Ecumenical chapel, the Irish leaders offered hope to their Christian brothers and sisters and people of all faiths in today's Holy Land which is so embroiled by conflict. The service included prayers of thanks for all that has been achieved the Irish peace process and the new understandings that are now emerging in Ireland; it acknowledged the positive Irish links that have existed in the region, most especially through the relief work of aid agencies Trócaire and Christian Aid, and offered hope to those who are suffering so much, that a treaty of peace might come to "bring to an end to the occupation imposed by one people on another, granting freedom to Palestinians, giving security to Israelis, and freeing all from fear".
The service, which was broadcast on Irish radio, captures the essence of the Church leaders' visit, and is available on the RTE website: http://www.rte.ie/radio1/religion/Bethlehem2008.html
On the Sunday 8th June 2008, the Churches in Israel and Palestine have invited Christians around the world to pray with them "the Jerusalem Prayer" for a just peace. At last week's General Synod a special motion was unanimously passed urging every church to use the prayer as part of their liturgy and worship on that day.
It would be empowering to the 2% of Christians left in today's Holy Land – the "living stones" who continue to live, worship and preserve the holiest places for Christians - to know that we would do as they have invited us to do, and pray with them on that date.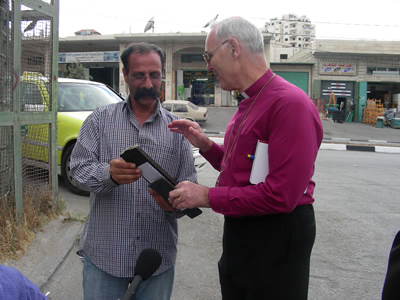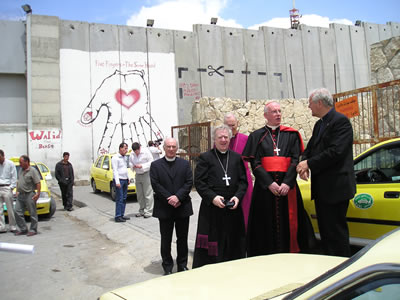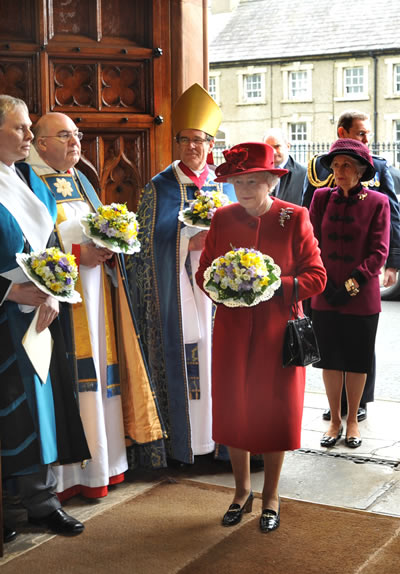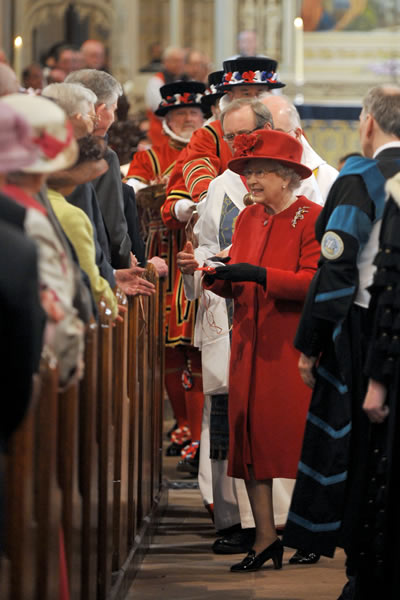 Images kindly provided by Harrison Photography (www.harrisonphotography.co.uk )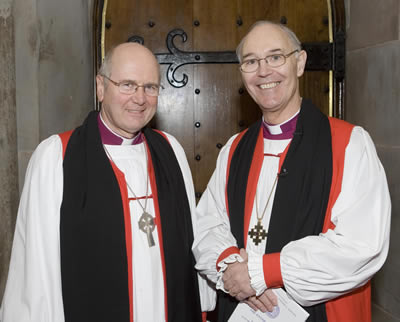 Primus of Scotland (Rt Revd Dr Idris Jones ), Archbishop of Armagh (Most Revd Alan Harper)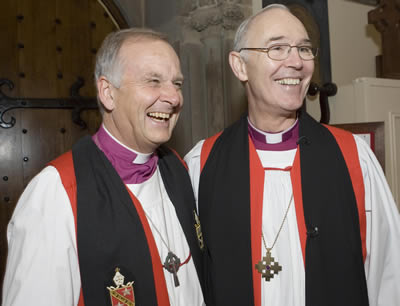 Archbishop of Wales (Most Revd Dr Barry Morgan), Archbishop of Armagh (Most Revd Alan Harper)
Former Archbishop of Armagh and Church of Ireland Primate of All-Ireland, The Rt Revd Dr Robin Eames, received Tipperary International Peace Award this afternoon in Tipperary Town saying that he did so in the names of parochial clergy of the Church of Ireland and the clergy of all the denominations on the island and of the many ordinary people who have never received acknowledgement for working towards peace. (more...)
The Easter message of the triumph of life over death and hope over despair is reinforced for all of us in Ireland this year. We may not have put behind us all of the legacy of a troubled past, but so much has happened that promises new beginnings and a future liberated from the chains of the past, that we are surely right to celebrate with additional joy and conviction.(more...)
Today's announcements from the leader of the Democratic Unionist Party and the President of Sinn Féin represent an important and welcome development in the search for a stable future for Northern Ireland. (more...)
Lord and Lady Eames will make history later this year as the first individuals ever to be awarded the Freedom of Armagh City.(more...)
I want to speak of the single most important issue for all of us here, in this island of Ireland, today. I want to speak of forgiveness and reconciliation.(more...)